At today's ADE Session in Singapore we spent the day talking about the importance of personal branding.  We are fortunate to have Max Judd here who facilitated the personal branding session.  Max is the senior
manager of Education Advocacy Programs at Apple and is responsible for the Apple Distinguished Educator (ADE) program.  He talked about how Steve Jobs really helped Apple redefine itself with the Think Different campaign and how redefining Apple would have changed if the brand would have said Think Differently.  Famous logos crossed the screen that most of us recognized from companies and PEOPLE that we all recognized.  Companies like McDonald's are recognized by all and Obama's logo broke serious ground as it was the first time a candidate for President actually created a logo.
Rebecca Stockley gave us time to form our ideas through an exercise that built in the cherished time for both reflection and time to give/receive feedback about our reflections from our colleagues. 
We started with identifying the key roles that defined us as a professional and then photographer Joseph Linaschke demonstrated HOW to capture our roles in a single image.  His photograph was creative, inspiring and really sent the message about what my colleague Declan does in his job as an ICT Coordinator.
What surprised me throughout the day was that mental blocks kept coming up throughout the day.  People almost tortured about what image would describe what they do as their professional self.  I know few educators who have a recognizable personal brand our personal logo right now and frankly, I can only think of Jeff Utecht right now.  He actually has TWO!  Comparing them one of them was designed by David Gran, a fellow ADE and talented artist, and one of them Jeff designed.  One of them used catchy technological words in a globe and one of them was a simple image with the phrase 'The Thinking Stick'.  So what is the difference between the two logos?  Both are technically part of his personal brand but what Jeff is extremely talented at is getting people to THINK.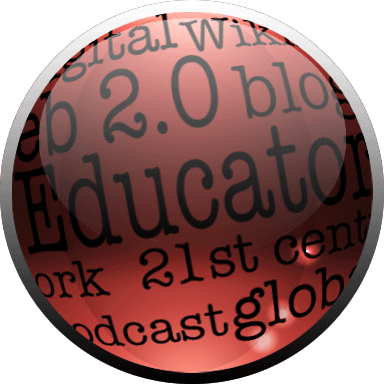 I spent the day having deep conversation with my colleagues about branding themselves and it came down to this:  Educators want to be known for their ideas and their beliefs rather than simply their roles of educator, mentor or colleague. AND I will also argue that as educators we really SHOULD blur the line a bit around our professional self and our personal self.  We are educators and my nature what seems to matter the most is the personal connection we have with our audience.  Jeff was either lucky or brilliant to come up with The Thinking Stick years ago because is shows his professional ideas and beliefs around reflection and shows a bit of his personal self showing his passion for baseball. 
In this day and age, I think it is important to sit down and create your personal brand, but know that it's a process that will take time, self-reflection and most importantly reflection from your colleagues.  Ask your audience, "So how do you see me a teacher?  an administrator?  a consultant?  a mentor?  And then, throw a little bit of your personal self in the mix!
Tags: personal branding